Hello Again!
Well, I'm back! :-)
We have managed to move into my Aunt and Uncle's house and have settled in wonderfully. We've also started school again. My sister
Rebekah
has a
new blog
up as well, so please go and
visit her there
! (and please feel free to leave her comments)
I haven't blogged lately because I didn't really have anything to say.:-) However, seeing as my friend
Allison
was sweet enough to give me a blogging award and tag me, I think I need to do something. :-)
So, first I've been given the "
Kindred Spirit award
", part of the
Kindred Spirit Network
. This is a neat site with blogs by different girls, on all different subjects, so please be sure to
check it out
!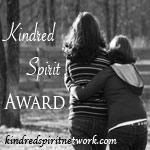 Now, I am supposed to choose some fellow bloggers to give this award to, so I pick........
Savannah from The Family Cochran
My sister Rebekah from Kolo and Spice and Everything Nice.
Thank You Allison!!!
And now, for the tag.
Rules are as follows:1. Link to the person(s) who tagged you. 2. Post the rules on your blog. 3. Write six random things about yourself. 4. Tag sixish people at the end of your post. 5. Let each person know he or she has been tagged. 6. Let the tagger know when your entry is up.
Six Random Things About me
1. Dark chocolate truffles are my very best firends.

2. I have to look at someone when they talk to me, because I can't hear out of the sides of my ears. My dad is the same way.
3. The one time I drove a vehicle for more than 5 minutes, I wrecked it.
4. I have moved 3 times in the last 2 years, and have been to over a dozen states in the last 4 years.
5. At one time my sisters and I owned a collection of approximately 8 hunting, skinning and pocket knives, 2 BB guns, 2 archery sets, 1 hatchet, and could build a 6x6 emergency/play shelter out of cinder blocks, fence posts and tarps in less than 2 hours. (I am proud of that.)
6. Rain frogs and lizards make me cry. :-)
I hereby tag
Well, that's all for now folks!
Sara~